Libra Lunation Cycle Oct 16 – Nov 14
Chart for the Libra New Moon
Sabian Symbol for 24º Libra:
"A butterfly with a third wing on its left side." This degree symbolizes the the ability to develop, for inner strengthening, new modes of response to basic life situations. — from An Astrological Mandala: The Cycle of Transformation and Its 360 Symbolic Phases © 1973 Dane Rudhyar
---
Highlights of the New Moon at 23º Libra 53′:
This Libra lunation cycle begins amid a restless surge of energy (Mars square Jupiter). The desire for a positive outcome stimulates rash and impulsive actions that are excessive and in the end can be costly. Feelings of disruption and upheaval (Sun & Moon quindicile Uranus) provokes an almost compulsive drive for independence and reform leading to a disregard of practical reality, fueling the urge to rebel, and increasing the sense of instability and uncertainty about the future. Use your creativity to respond positively to the current crisis. Role playing is an imaginative way of recognizing other points of view (Sun & Moon bi-quintile Neptune). The need is to be balanced and responsible (Sun and Moon square Saturn) despite an overwhelming sense of restriction and frustration.
Advice for this cycle:
The best way to navigate these chaotic times is to spend as much time as  possible communicating with supportive friends and immerse yourself in the arts. The more exposure you have to both, the better you will be able to make informed decisions. We encourage you to set strong boundaries, as the tendency this cycle is to commit yourself out of a need for acceptance from others. Be certain you can and want to fulfill obligations before saying yes.
Strong emotions can either emphasize feelings of insecurity or be used to express your values creatively, therefore we recommend doing everything you can to emphasize the aesthetics in your environment. Put your imagination to good use by becoming involved in creative projects.
Listening to symphonies, or playing a musical instrument will allow you to find peace during inharmonious times. Visiting art galleries or museums, taking an art history class, painting, or drawing will increase your sense of balance and serenity.
Question your relationship with others, with money, with your work, with yourself. Additional questions you might explore for personal insight include:
How do you define beauty?
What things do you find easiest and hardest to share?
How do you regain your equilibrium when realizing you're out of balance?
Where and with whom would life be easier if you were to make compromises?
How well do you listen?
What is your relationship with your shadow?
---
Affirm: I am at peace in the stillness of my heart.
---
Libra Sits in the West on the Medicine Wheel.
The direction West points to the path of spiritual intelligence. The sign Libra correlates to Experience, the first step on the Western pathway of Sun Bear's Medicine Wheel. The Love developed during the Virgo cycle allows the active participation in life via interaction with others and observation of the shadow, both of which provide life experience and lead to knowledge. The key to balanced relationship lies in being able to appreciate the value of routine activities.
---
More about The Sign of the Zodiac: Libra More about The Lunation Cycle
Mandala Support
A Mandala is a powerful meditation device for focusing sacred intentions. We encourage you to create your own mandala or print out and color the mandala below created by Sunny according to the geometric patterns prominent in the chart for the New Moon.
Mandala for the New Moon in Libra
Download this Libra New Moon Mandala to Color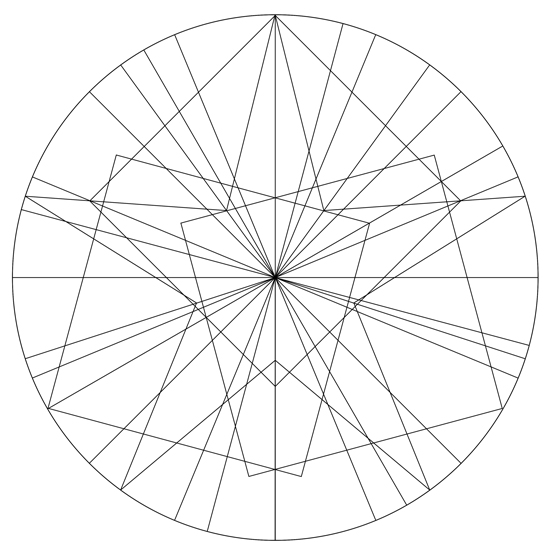 More about Mandalas
Thank you for taking the time to read this post. May you find harmony in the moment.